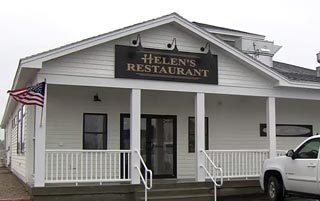 Our Contact Info
We're here to serve you 7 days a week!
Helen's Restaurant
111 Main Street
Machias, ME 04654
207-255-8423
Restaurant Hours:
Monday - Saturday: 6:00 a.m. 8:00 p.m.
Sunday: 7:00 a.m. - 2:00 p.m.
Your Hosts: David and Julie Barker
Manager: Rianne Ackley
How to Find Us
Helen's is located on US Route 1 (Main Street), which runs through the heart of Machias.
Approximate Driving Distances
Bangor, ME = 85 miles
Bar Harbor, ME = 75 miles
Calais, ME = 60 miles
Eastport, ME = 45 miles
Ellsworth, ME = 60 miles
Lubec, ME = 27 miles