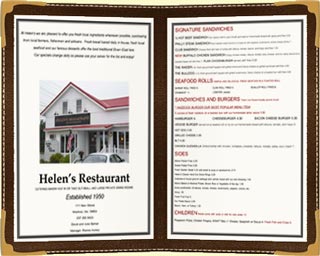 Ask about our specials!
Our Menus
Dine in or Take Out
Download and view our current menu using the links below. If you have special dietary needs, please let your server know.
Our Desserts
Desserts are prepared fresh daily. Take a stroll past our dessert display case to see what's available or ask your server. Learn more about our desserts on our Homemade Pies & Desserts page.
Supporting Local Farmers and Food Producers
We love to support our local businesses and buy locally whenever possible. Many of the items on our menu are harvested or produced here in Washington County, Maine. Here's just a few...
We feature Tide Mill's Ricotta in several special dishes, including Crabmeat Canneloni, Lasagna Bolognese, several other pasta dishes, and desserts.
We have to thank these folks for supplying us with the most important ingredient in our most popular salad, our Goat Cheese Salad! We also serve Gardenside Dairy's Garlic and Dill Chevre with crackers as an appetizer.
Joe's Sausage, Machias
Sandy Cove Shellfish, Harrington - Clams
Jeremy Wood, Machiasport - Clams
Donna Grant, Jonesport - Crabmeat
"Hawk" Hawkins, Cobscook Bay - Scallops
Joey Wood, Drew Barker, BJ Wood, Bucks Harbor - Lobster
BBS Lobster Company, Bucks Harbor - Lobster
Nick Lemieux, Cutler - Halibut and lobster
Jeff Davis, Bucks Harbor - Halibut
Welch Farm, Roque Bluffs - Blueberries
W. A. Bean and Sons, Bangor
Maine Shellfish Company, Ellsworth - Shrimp, etc.
Sysco Foods also provides us with many Maine products
Other local food items we purchase from various individuals: blackberries, raspberries, rhubarb, eggs, fiddleheads, smelts, and more