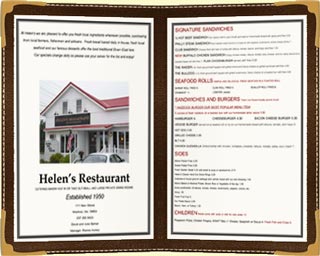 Ask about our specials!
Our Menus
Dine in or Take Out
Download and view our current menu using the links below. If you have special dietary needs, please let your server know.
Our Desserts
Desserts are prepared fresh daily. Take a stroll past our dessert display case to see what's available or ask your server. Learn more about our desserts on our Homemade Pies & Desserts page.
Supporting Local Farmers and Food Producers
We love to support our local businesses and buy locally whenever possible. Many of the items on our menu are harvested or produced here in Washington County, Maine.